CPC (Cost Per Click) Addon
The CPC addons settings are given below.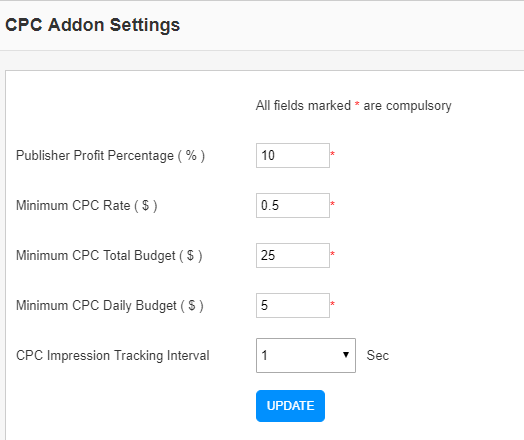 Publisher Profit Percentage – This is the profit percentage to publisher. If you set 40%, publisher will get 40% of the click value and admin will get 60%.
Minimum CPC Rate – This is the minimum rate of the clicks. Advertiser cannot use a lesser value for the clicks.
Minimum CPC Total Budget – This is the minimum total budget advertiser can set for an ad.
Minimum CPC Daily Budget – This is the minimum daily budget advertiser can set.
CPC Impression Tracking Interval – This is the time interval for tracking a cpc impression. If the value is 1 second, the impression is counted only if the ad is displayed for 1 seconds.