In this section we can see all our social media account and create new accounts.
We are supporting 5 social media, facebook, twitter, linkedin, pinterest and tumblr. We have 5 tabs for these accounts.

Click on the social media menu to create a new account or manage the existing account.
The functions of the action button are given below.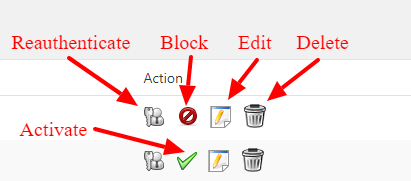 If there is any authentication issue, we can reauthenticate the account by clicking on the "Reauthenticate" button.
The "Block" button is used for blocking an account.
"Edit" button is used for editing an account and the "Delete" button is used for deleting an account.
Also we can see the API usage of the hour and the history.