Addon Installation in the XYZ SMAP Premium Plugin
Please go to the "Addons" page by clicking the addon link in the menu.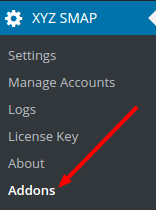 You can see all the addons available. Click on the "Install" button in the page. (If you have not purchased the addon, it will ask you to purchase it first.)

After the installation, click on the "Activate" link.

The addon is now ready to use.

If you cannot do the automatic installation, please do the following.
Download the addon from the XYZScripts Member Area.
Unzip the addon and upload the folder to the "Addons" folder in the SMAP premium plugin through FTP
Now you can see the addon in the installed addons section and you can activate it.
If there is any issue, please contact our support desk.