User Guide – Premium Plugin
SMAP Premium Latest version: 5.1
SMAP Premium Plus Latest version: 2.1
For publishing a WordPress post/page/custom post type to social media, we need an app from the social media. So the SMAP plugin + App is required to publishing posts to social media.

All the apps creation takes some time and need approval from the respective social media.

The details of the app creation are given below.

Since the app creation is a time comsuming and complicated process, we have introduced an alternate solution called smapsolutions app and it is a paid service starts from USD 10 per year per social media. We are providing the basic plan of the smapsolutions app with the premium plugin FREE for 1 year.

So there are 2 options, use the social media approved API or use the alternate app smapsolutions.
Plugin Menu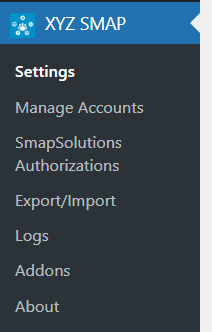 In this menu, we can see the links to
Settings
Manage Accounts
Smapsolutions Authorizations
Export/Import
Logs
Addons
About
You can see demo screenshots of the premium plugin at https://wpdemo.xyzscripts.com/social-media-auto-publish-premium/
You can see demo screenshots of the premium plus plugin at https://wpdemo.xyzscripts.com/social-media-auto-publish-premium-plus/