General Settings Configurations
The basic settings are given below.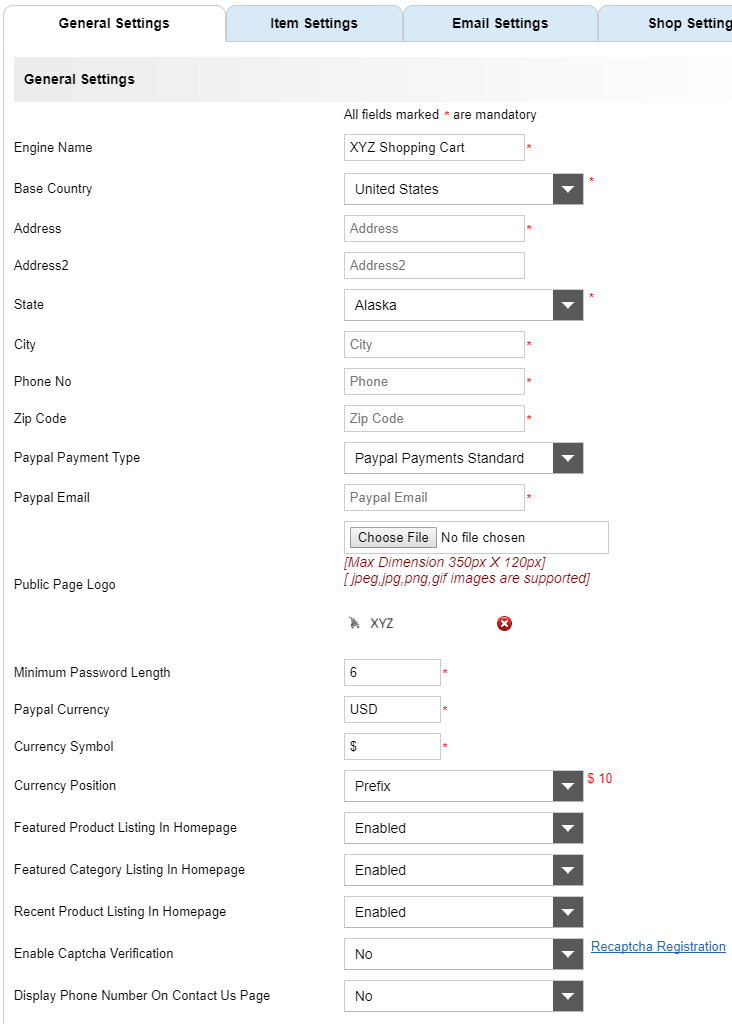 1. Engine Name – This is the name of your shopping cart site. You can enter the site name here.
2. Base Country – You can select you base country of operation from the drop down list..
3. Address 1 – Enter the address line 1.
4. Address 2 – Enter the address line 2.
5. State – Enter the residing state here.
6. City – Enter your city name.
7. Phone Number – Enter your pone number here.
8. Zip Code – Enter your zip code.
9. Paypal Payment Type – We have 2 paypal payment options. a) Standard paypal payments b) Paypal payment REST API
If you are using the REST API, you need to enter Paypal Merchant Account ID , API Client ID and API Client Secret
In the standard paypal payment option you need to enter your paypal email.
10. Public Page Logo – Enter your public page logo. [ jpeg,jpg,png,gif images are supported]
11. Minimum Password length – Enter the minimum password length.
12. Paypal Currency – Enter the paypal currency here.
13. Currency Symbol – Enter the currency symbol.
14. Currency Position – Select the currency position here. 2 positions for currency symbol
prefix – $ 10
suffix – 10 $
15. Featured Product Listing In Homepage – Select this option if you want to display featured products in home page.
16. Featured Category Listing In Homepage – Select this option if you want to display featured categories in home page. Here the categories listed as featured with their products ate displayed in home page.
17. Recent Product Listing In Homepage – Select this option if you want to display recent products in home page.
18. Enable Captcha Verification – We can enable the captcha verification for user registration and if enabling this option admin need to enter the Recaptcha Private Key and Public Key. You can register at  Recaptcha Registration
19. Display Phone Number On Contact Us Page – To display the phone number on contact us page, please enable this option.
20. No. of Days to Retain Pending Orders : This is the number of days to retain the pending orders. The pending orders after this period will be deleted automatically.
21. Sales Period for Determining Product Popularity(days) : This is the number of days of sales counting for product popularity. The products with most sales during this period are considered as the most popular products.

Admin can enter the home slider banner width and height here.
You can enable/ disable the social media share links.
Also you can add the facebook, twitter, google plus and linkedin ids. In the header and footer of the site we are using these id.
We can also enable the facebook login and google plus login (That is we can allow users to login to the site using their facbook or google plus account). We need to enter the facebook and google plus keys.
To create the google plus developer keys, please refer
After entering all the details, please click 'Update' button.