We can see and manage all the products here.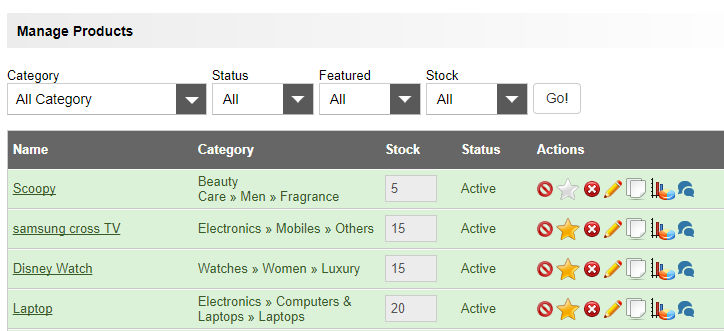 We can filter the products by 'Category wise' , 'Status wise' , 'Featured wise' and 'Stock wise'.
Click on each product to see the details.
There are different actions that you can perform.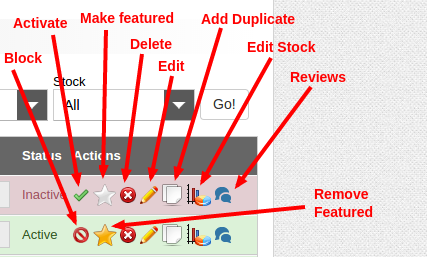 1. Activate : We can activate a product by clicking the tick symbol.
2. Block : We can block a product by clicking on the block symbol.
3. Make Featured : We can make a product featured and for this click on the white star. A featured product is displayed in yellow star. To remove the featured option click on the yellow star.
4. Delete : To delete a product, click on the delete button.
5. Edit : Click the edit button to edit a product.
6. Add Duplicate : To add a duplicate or copy of the same product, click the add duplicate button.
7. Edit Stock : Click the edit stock buttonto update the stock.
Now you can edit the stock and update it as given below. To cancel the edit, click the cancel button.
8. Reviews : You can see the reviews of users about the product here. Click the review buttonto check this.
You can see all the reviews about the product.
We can block or delete the review and see the review details. To see the review details, click the details button.
Now you can see the complete review of the user.